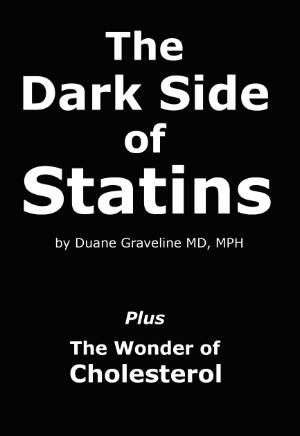 By Duane Graveline MD, MPH

My studies, for more than the past decade, have slowly revealed the various mechanisms of action of statin drugs in the production of side effects.
First, I learned about statin drug inhibition of glial cell cholesterol, so vital for memory.
Then on the basis of a detailed study of the inevitable statin associated mevalonate blockade of CoQ10 and dolichol synthesis, I learned about the consequent neuropathies, myopathies and chronic neuromuscular degeneration.
And now I know why many of the statin side effects are permanent and why weakness and fatigue are such common complaints. Many statin victims say that abruptly, almost in the blink of an eye, they have become old people.
All the drug companies ever really told us about the mechanism of action of statins was that they were reductase inhibitors. This reductase step that was so interesting to drug company researchers, just happened to be at the very beginning of the mevalonate pathway, responsible for the synthesis of not only cholesterol (our target at that time) but also such vital substances as CoQ10, dolichols and selenoproteins and even normal phosphorylation.

It seems that our brains are so dependent upon cholesterol for the formation and function of memory synapses that special cells in the brain, our glial cells, synthesize cholesterol as it is needed. Naturally this glial cell process was inhibited by statin drugs. We had an obvious culprit.

The full range of statin side effects goes far beyond cognitive dysfunction to include behavioral and emotional disorders, chronic nerve and muscle damage and an ALS-like neuromuscular degenerative process as major categories of damage. Thousands of statin users have been afflicted with peripheral neuropathies with a tendency to be resistant to all traditional medical treatment.

I soon discovered the special role of CoQ10 as an anti-oxidant to our mitochondria. We have dozens of natural anti-oxidants but only CoQ10, with a free radical quenching ability some 50 times greater than that of vitamin E, is bonded directly to our mitochondria, vital to both its structure and function.