November 2008 Update

I finally have had to stop my daily walks, a life long habit. Muscles in my legs and low back cannot be rehabilitated. I have just so many remaining functional muscle fibers and finally I have reached the point that just standing for a few minutes is all I can do.

I can follow my wife around with a grocery cart pretty good but without it I break into a cold sweat and look for a chair. My talks on statins are no longer on my feet before a chart or blackboard. I sit down just lke everyone else and it works well. Before the diagnosis was made I used to wonder why I was drenched in sweat at the end of my talks. Never occurred to me it might be ALS and that I was close to exhaustion.

I have never been exhausted before. My neurologist and I are both convinced the mechanism of action must be mitochondrial mutations. After all that's what statins do, they wipe out CoQ10 and glutathione, our primary anti-oxidant defense against free radical damage and mitochondrial mutation.
In addition to peripheral neuropathy, statin use in my case had somehow triggered a primary lateral sclerosis type of response (currently under neurological and genetic investigation) suggesting two completely different forms of statin neurological damage (nerve fiber versus neuronal.)
As to my progressive muscle weakness I had to give up walking without assistance completely as being counter-productive. On the positive side I found a three wheel walker device which transfers weight bearing to my arms and shoulders so now I am walking again with much greater stability and co-ordination.

March 2009 Update
Three months have passed during which time I knew I had become a symbol of persistence to many others in this retirement community as I passed their homes each morning dutifully pushing my walker. Then to their surprise one morning I briskly walked my path using only a lightweight walking stick. My surprise was just as great as theirs for I had no idea my response to my new supplement plan would be so impressive. One month earlier I had started my new regimen of taking all of the supplements I had deemed essential to mitochondrial maintenance.
One thing my research had shown me was that of the many supplements that have been tested by various researchers studying mitochondrial health over the past decade, twelve clearly stood out. I know this can be argued indefinitely but from my perspective as a reasonably well-trained and well-informed MD, these twelve seem to be critical.
I had tried robust doses of CoQ10 both with and without selenium for a time, and glyconutrients and lecithin for half a year while participating in a study of their combined effectiveness on peripheral neuropathy with no significant effect on the process that was robbing me of strength and stability and turning my muscles to jelly, but I had never tried all twelve supplements together. Never for a moment did I think I could need all twelve critical supplements simultaneously, but how else to tell my need other than all at the same time?
I also convinced myself that ultimate dosage of each was not critical as long as some was being taken in. I completely understand that this can be grossly underdone and judgment was important. I also made once daily dosing of critical importance to me. In my conservative and traditional world, If there is anything worse than opening 12 supplement bottles daily, it was having to do it twice a day. I next mandated that all supplements requiring dissolving in liquid be done at the same time for convenience sake.
The rationale for use and dosage of each are discussed in the mitochonrial mutations chapter of my forthcoming book the Statin Damage Crisis. Everyone is different and everyone's needs are different.
At the end of one week I was seeing improvement. By the middle of the fourth week I ventured forth with my walking stick (for stability) and surprised my neighbors and that's where I am at present. I am highly motivated, perhaps more than most. I keep telling myself this is all placebo effect, knowing full well that this can be very powerful. But even my wife remarks on the new muscular look of my thighs and there seems no disputing my new energy. March 2nd 2009 was my 78th birthday and my vision of an imminent wheelchair existence has been replaced by hope of active life yet.
As a word of caution, yesterday my new freedom led me on a two-mile walk through a nearby abandoned orange grove where I stumbled and almost fell while crossing a drainage ditch. Pulled some muscle fibers in my upper back while I clung for support on my walking stick. Might have been better if I had fallen but please do not take on too much too soon. Your body is never the same as it used to be. Some things we just have to accept.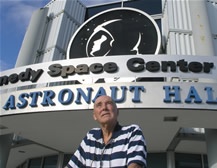 July 2009 Update
Despite my initial improvement gained from a battery of nutritional supplements permitting me to walk freely again, over the past several months it is clear that the strain of activity is gradually wearing me down. I recently traveled to Vermont but the immense effort required and the strains of travel took its toll and has set me back greatly. After almost a decade of studying the mechanisms of actions of the statins I am close to the end of my capabilities.
Actually, everything that needs be said about the statin drugs is on this website and in my books. There is now very little reason for my further input. I have written extensively about the side effect profile of statins. With the help of Frank Pfrieger we now know how necessary cholesterol is to cognitive function in our brains. The symptoms of amnesia, confusion, disorientation, forgetfulness and dementia are inevitable for many with statin exposure due to the inhibitory effects of statins on brain cholesterol.

That statins, also known as reductase inhibitors, also block the mevalonate pathway causing a wide range of side effects, including permanent neuropathy and myopathy, ALS and other neurodegenerative illnesses, heart failure, gross personality changes, loss of libido and far more is well documented in my material and fully referenced.

Finally my most important contribution has been to direct attention to the ability of statins to cause DNA damage. This action, like inhibition of brain cholesterol and mevalonate pathway inhibition is also inevitable for many - causing mitochondrial mutations creating both premature aging and the chronic diseases of the brain, nerve, muscle and bone common to aging. Statins are robbing many of us of our golden years, using the same physiologic mechanisms as normal aging. Suddenly within a few months victims become aged like me, diminished to the point where wheelchair existence is imminent.
Traditional medicine has nothing to offer. Nutritional supplements seem to be our only hope at present, using the full range known to be vital for mitochondrial function. CoQ10 is vital in prevention of statin damage but once the damage is done, all the CoQ10 in the world cannot by itself repair mitochondrial damage. The possibility of repair, it seems, can currently only come from the broad battery of nutritional supplements I mention in my book, the Statin Damage Crisis.
Now I have told you all I know. I have done my job. Please accept my apologies for being near 80 and "out of gas." Many doctors and other qualified people have taken up the banner and will guide you. I know of no better goodbye than what the Spanish have given us: Vaya con Dios - "Go with God".